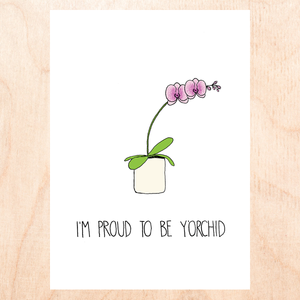 fineasslines
PROUD TO BE YORCHID
Regular price
$ 6.00
$ 0.00
This is what happens when you combine clever flower puns with a sweet sentiment. Perfect for Mother's Day, Father's Day, or a day you just wanna show love to your parents.
Front: I'm Proud To Be Y'Orchid
Inside: (blank)
Measures 5" x 7"
All designs have been hand drawn, scanned, and printed digitally onto high quality, 80 lb card stock.
Kraft envelope is included with every card purchase.
Want to see more shots? Visit @fineasslines on Instagram
---
More from this collection