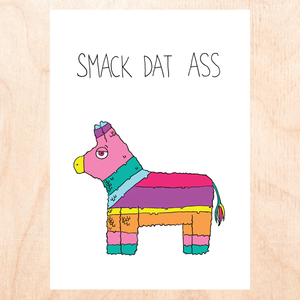 fineasslines
SMACK DAT ASS
Regular price
$ 6.00
$ 0.00
There are only two conditions under which it's permissible to smack an ass: [1] When it's the ass of your consenting, significant other or [2] When it's a donkey piñata. This card is great for single friends or people who have a propensity for smacking asses.
Front: "Smack dat ass"
Blank inside
Measures 5" x 7"
All designs have been hand drawn, scanned, and printed digitally onto high quality, 80 lb card stock.
Kraft envelope is included with every card purchase
Want to see more shots? Visit @fineasslines on Instagram
---
More from this collection